Programming News and Views
Send your programming press releases, news items or comments to: NewsDesk@i-programmer.info
---
MariaDB SkySQL Improves AWS Support


11 May

|

Kay Ewbank



The MariaDB Corp team has updated SkySQL, its version of MariaDB as a fully managed database-as-a-service. The updated version comes with expanded support for Amazon Web Services.
---
VS Code Improves Docker Support


11 May

|

Mike James



Visual Studio Code 1.56 has been released with improvements including the ability to manage mounted volumes inside Docker containers. The release also handles clickable events better in the Workbench.
---
Android Studio 4.2 Released


10 May

|

Nikos Vaggalis



Although version 4.2 is considered a minor update, it still packs a host of features focused mainly on productivity, including more advanced support for GitHub pull requests.
---
Visual Basic 16.9 Support In .NET 5


10 May

|

Kay Ewbank



Visual Basic support in .NET 5 has been updated, and Visual Basic 16.9 is now supported, along with the ability to use Windows Forms. Microsoft is still firm in its stance that the Visual Basic language won't get new language features, but Kathleen Dollard Program Manager at Microsoft working on .NET Core CLI and Languages, says that Microsoft is definitely investing in VB.
---
There's A New Swarming Robot On The Block - BOBbot


09 May

|

Harry Fairhead



Robots small enough to operate in swarms are nothing new, but BOBbot is bigger than most and has a secret in its body -magnets.
---
May Week 1


08 May

|

Editor



Our weekly digest lists the week's news, new titles added to our Book Watch Archive and our weekly book review. This week we also have an extract from the book on JavaScript Bitmap Graphics from the I Programmer Library.
---
First Aid...Git!


07 May

|

Nikos Vaggalis



If you've ever floundered while trying to do something on Git, help is on hand. First Aid Git provides a quick way to search through the most common git-related issues.
---
Registration Open For Microsoft Build 2021


07 May

|

Sue Gee



The 2021 Microsoft Build Digital Experience takes place from May 25th to 27th. Billed as "A fan fest. A code fest. An intro-to-tech fest" it is free of charge and open to developers of all skill levels, students, and developer decision makers – anyone who uses or wants to learn the latest technologies.
---
Eclipse 2021-03 Adds Java 16 Support


06 May

|

Kay Ewbank



The Eclipse IDE has been updated for the first time this year. The new version concentrates on improvements to the Java support, with only minor improvements for other languages.
---
Microsoft Previews Azure Web PubSub


06 May

|

Alex Denham



Microsoft has announced the preview of the Azure Web PubSub service, a way to build real-time web applications with WebSockets.
---
New Spectre-Like Vulnerability - Is The Era Of Fast Clever Computers Over?


05 May

|

Harry Fairhead



Researchers have identified another speculative execution vulnerability and this one isn't fixed by the current OS patches. It seems very likely that the era of making processors faster by being clever might well be over.
---
Kubernetes on Edge Training From Linux Foundation & CNCF


05 May

|

Sue Gee



The Linux Foundation has expanded its portfolio of free-to-audit training courses on the edX platform. The latest one explores running compute in edge locations with Kubernetes and the open source tool K3s.
---
Facebook Open Source Joins Rust Foundation


04 May

|

Sue Gee



The Rust Foundation, the recently formed non-profit organization that has stewardship of the Rust programming language is welcoming Facebook as a new Platinum member, its top-level tier. Four Silver Tier members have also been announced.
---
Mozilla Makes Pyodide Community Project


04 May

|

Kay Ewbank



Pyodide is now an independent community project rather than being developed in-house at Mozilla. Pyodide provides a way to run Python in web browsers by using a WebAssembly compilation of the CPython interpreter and scientific stack.
---
ACM Breakthrough Award For JIT Compilation


03 May

|

Sue Gee



The ACM has announced that Michael Franz of the University of California, Irvine is the recipient of the 2020 Chuck Thacker Breakthrough in Computing Award in recognition of his development of just-in-time compilation techniques that enable fast and feature-rich web services on the internet.
---
Microsoft Now Visionary Sponsor Of Python


03 May

|

Mike James



Microsoft has increased its existing support for the Python, becoming a Visionary Sponsor by making a $150K donation. The funds will be focused on the Packaging Working Group to help with development costs for further improvements to PyPI and the packaging ecosystem.
---
Computer Comes First In Crossword Competition


02 May

|

Sue Gee



After more than a decade of competing in the annual American Crossword Puzzle Tournament, Dr. Fill, a computer program devised by Matt Ginsberg came at the top of the rankings. It convincingly beating over 1300 human opponents in another triumph for AI. Its success this time around can be attributed to the contribution of a neural network.
---
April Week 4


01 May

|

Editor



Get up to speed on stuff that affects you as a developer. Our weekly digest lists the week's news, new titles added to our Book Watch Archive and our weekly book review. This week saw the publication of the first of Harry Fairhead's new books on the Raspberry Pi Pico and we have an extract from it on the Pico's PIO (Programmable I/O).
Other Articles
Book Review
---
Large-Scale C++, Volume I
Tuesday 04 May
Author: John Lakos
Publisher: Addison-Wesley
Pages: 988
ISBN: 978-0201717068
Print: 0201717069
Kindle: B0826523GZ
Audience: Programmers with plenty of time to spare
Rating: 3
Reviewer Mike James:
Large Scale C++, what can this mean?
Featured Articles
---
Deep C# - Controlling Inheritance
Mike James
Inheritance is a great idea but it is a powerful technique that can be misused. C# provides the tools to keep inheritance under control or to turn it off completely if you want to.
---
JavaScript Canvas - Animation
Ian Elliot
Canvas animation is simple - or is it? Just keep drawing the pictures. In this extract from JavaScript Bitmap Graphics With Canvas we look at how it works.
---
The Greeks, George Boole and Prolog
Alex Armstrong & Mike James
Logic isn't the most exciting of subjects and you might think that it had its day with the Greeks, but you would be wrong. Logic isn't just part of programming, it can be all of it!
---
The Pico In C: A 1-Wire PIO Program
Harry Fairhead
The 1-Wire bus is not an easy protocol to implement in PIO assembler for the Pico - but it can be done. This is an extract from my latest book all about the Pico in C.
---
Advanced Hashing
Mike James
Hashing is arguably one of the great ideas of computing and it has hidden depths. Extensible hashing and perfect hashing are ideas that are worth exploring.
Unhandled Exception!
Depth and Breadth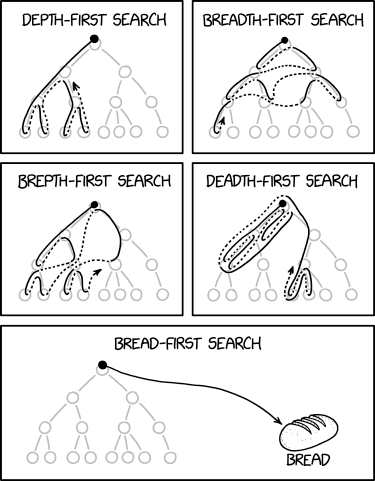 Click for larger image
Ah the joy of tree search. When you first meet trees computer science becomes real. Trees, branches, leaves it all sounds so real. Then someone decides to call them nodes and arcs...so abstract. Depth first, breadth first and, in my case, always bread first, but I am dyslexic.
More cartoon fun at xkcd a webcomic of romance,sarcasm, math, and language
---
Book Watch

Follow Book Watch on Twitter

Book Watch is I Programmer's listing of new books and is compiled using publishers' publicity material. It is not to be read as a review where we provide an independent assessment. Some but by no means all of the books in Book Watch are eventually reviewed.
---
Python All-in-One, 2nd Ed (For Dummies)
Monday 10 May
This updated second edition of a collection of mini-books assumes the reader is a beginning programmer. Authors John Shovic and Alan Simpson start from the basic elements of Python code with introductions to the specific applications where you'll use it. The focus is on practice over theory, providing you with examples to follow as well as code for you to copy and start modifying in the "real world".
<ASIN:1119787602>
---
Living in Data (Farrar, Straus & Giroux)
Friday 07 May
In this book, which has the subtitle "A Citizen's Guide to a Better Information Future", Jer Thorp asks the question "How do we stop passively inhabiting data, and instead become active citizens of it?" Threading a data story through hippo attacks, glaciers, and school gymnasiums, around colossal rice piles, and over active minefields, he sets out to show that the future of data is still wide open. The book draws on Thorp's analysis of the word "data" in 10,325 New York Times stories written between 1984 and 2018 which shows that among the words most closely associated with "data," alongside the expected "information" and "digital," the term is used with topics ranging from "scandal" and "misinformation" to "ethics," "friends," and "play."
<ASIN:0374189900>
---
Black Hat Python, 2nd Ed (No Starch)
Wednesday 05 May
Subtitled "Python Programming for Hackers and Pentesters", this second edition has been fully updated for Python 3. Justin Seitz and Tim Arnold explore the stealthier side of programming, everything from writing network sniffers, stealing email credentials, and bruteforcing directories to crafting mutation fuzzers, investigating virtual machines, and creating stealthy trojans. The new edition adds coverage of bit shifting, code hygiene, and offensive forensics with the Volatility Framework as well as expanded explanations of the Python libraries ctypes, struct, lxml, and BeautifulSoup, and offensive hacking strategies like splitting bytes, leveraging computer vision libraries, and scraping websites.
<ASIN:1718501129>
---
Programming The Raspberry Pi Pico In C (I/O Press)
Monday 03 May
The Raspberry Pi Pico is a remarkable microcontroller. It has a power and sophistication that would have been unthinkable just a short time ago, and this book shows how to make the most of that power in C. Harry Fairhead reveals what you can do with the Pico's GPIO lines together with widely used sensors, servos and motors and ADCs. After covering the GPIO, outputs and inputs, events and interrupts get hands-on experience of PWM (Pulse Width Modulation), the SPI bus, the I2C bus and the 1-Wire bus. One of the key advantages of the Pico is its PIO (Programmable I/O) and, while this is an advanced feature, it is included in this book.
<ASIN:1871962684>
---
Introduction to Quantum Algorithms via Linear Algebra, 2nd Ed (MIT Press)
Friday 30 Apr
This book explains quantum computing in terms of elementary linear algebra, emphasizing computation and algorithms and requiring no background in physics. Richard J. Lipton and Kenneth W. Regan's book is concise but comprehensive, covering many key algorithms. It is mathematically rigorous but requires minimal background and assumes no knowledge of quantum theory or quantum mechanics. The book explains quantum computation in terms of elementary linear algebra; it assumes the reader will have some familiarity with vectors, matrices, and their basic properties, but offers a review of the relevant material from linear algebra.
<ASIN:0262045257>
More Book Watch
---
Previous Book Watch.
Follow Book Watch on Twitter.
Publishers send your book news to:
bookwatch@i-programmer.info
---