Programming News and Views
Send your programming press releases, news items or comments to: NewsDesk@i-programmer.info
---
Speech2Face - Give Me The Voice And I Will Give You The Face


16 Jun

|

Mike James



Neural networks are good at spotting patterns and correlations in data, but are they good enough to recreate the face that produced a particular voice?
---
What Is Huawei's New Operating System


15 Jun

|

Mike James



Huawei needs a new mobile operating system and is busy trademarking HongMeng, but what more can we say about it other than its name?
---
June Week 2


14 Jun

|

Editor



If you want to get up to speed on stuff that affects you as a developer, our weekly digest summarizes the articles, book reviews,and news written each day by programmers, for programmers. This week we start with an extract from Harry Fairhead's brand new book "Applying C for the IoT with Linux". Then Mike James tackles Information Theory.
---
Easier Python In Windows 10


14 Jun

|

Mike James



Developers wanting to use Python on Windows now have an easier way to get it up and running after an update to Windows 10.
---
Azure Maps Gets Mobility Service APIs


14 Jun

|

Kay Ewbank



A collection of APIs designed to make it easier to add real-time information about public transit services has been added to Azure Maps. The APIs can be used to add options such as searching for public transit stops, or finding shared bikes or cars around a given location.
---
Python Set To Be Top Language


13 Jun

|

Mike James



The June TIOBE index is out and it's Python causing the stir. It looks set to knock C and Java from their top positions. Python really does seem to be the language we all not only want to use, but are actually using.
---
Amazon Introduces Alexa Conversations


13 Jun

|

Kay Ewbank



Amazon has released a preview of Alexa Conversations as a new AI-driven approach to natural dialogs through the Alexa Skills Kit.
---
Apple Demands That We Include Sign In With Apple


12 Jun

|

Mike James



Apple seems to not know the old saying about "when you are in a hole stop digging". Or is it more like lighting another fire when the house isn't quite an inferno?
---
Programmers Choices and Regrets


12 Jun

|

Janet Swift



Packt has shared the results of its 2019 Skill Up Survey. As well as providing information on the languages programmers use, it investigates why they choose them. It also reveals what programmers regret having learned.
---
PureScript Updates Parser


11 Jun

|

Kay Ewbank



There's a new version of PureScript with a completely rewritten parser. The developers say they hope this release will open up a lot of opportunities for syntactic tooling, either using the existing parser or even using alternative parsers.
---
Scott Aaronson On NP And Physics


11 Jun

|

Mike James



To celebrate the 50th aniversary of the discovery of NP-complete problems by Stephen Cook, a Symposium was organized by the Fields Institute. Scott Aaronson gave a talk on the the role of physics in solving NP hard problems and it is a fascinating account.
---
Apache Storm Reworked In Java


10 Jun

|

Kay Ewbank



Apache Storm 2.0 has been released with better performance, new features, and integration with external systems. It has also had its core features rewritten in Java.
---
Udacity's School of Cloud Computing


10 Jun

|

Alex Armstrong



Udacity recently announced its School of Cloud Computing and its first two Nanodegree programs - Cloud Developer and Cloud DevOps start on June 11, which is also the last day for enrollment in their inaugural presentations.
---
Firefox Premium Coming This Fall


09 Jun

|

Sue Gee



Mozilla is the organization that has seemed the most committed to a free and open web. So the very idea that there could be a paid version of Firefox is potentially disturbing.
---
Salto The Bouncing Robot


09 Jun

|

Harry Fairhead



Salto is a tiny bouncing robot that proves that there is more than one way to build a robot. You can't help but think of an enthusiastic cartoon character as you watch Salto bounce along.
---
June Week 1


08 Jun

|

Editor



Every day for over 10 years I Programmer has had new material written by programmers, for programmers. Each week our digest gives a handy summary of the latest content. While you are on the site there's plenty more to explore, whatever topics you are interested in.
---
ENIAC Operating Manual


08 Jun

|

Harry Fairhead



A look at the ENIAC Operating Manual, published 75 years ago this month, reveals just how difficult it was to program the world's first electronic general-purpose computer and how frustrating it must have been for its programmers.
---
Latest FSF Updates To Software Licenses


07 Jun

|

Sue Gee



The FSF Licensing & Compliance Lab recently refreshed its page which gives guidance and recommendations about free software licenses and has added two new licenses to its non-free list.
Other Articles
Book Review
---
Programmed Inequality
Tuesday 11 Jun
Author: Marie Hicks
Publisher: MIT Press
Pages: 352
ISBN: 978-0262535182
Print: 0262535181
Kindle: B01MV05ABA
Audience: General interest
Rating: 4.5
Reviewer: Sue Gee
Subtitled "How Britain Discarded Women Technologists and Lost Its Edge in Computing" this sounds like a fascinating read.
Featured Articles
---
The Confusing Comma In JavaScript
Ian Elliot
Not every comma in JavaScript is an operator - in fact most of them aren't. It is time to confront the confusing comma.
---
Applying C - Framebuffer Graphics
Harry Fairhead
Graphics in Linux go from low level to full 3D. The most basic and in many ways most useful for low level code is the Framebuffer but is is hard to find out how it all works. This extract is from my book on C in an IoT context.
---
Information Theory
Mike James
So you know what a bit is – or do you? How much information does a bit carry? What is this "information" stuff anyway? The answers are, unsurprisingly, all contained in the subject called Information Theory, which was invented by one man.
---
Android Programming In Java: Programming the UI
Mike James
You can create an Android UI using code rather than XML but this isn't as well known. Here's how to do it in Java, in an extract from my published book Android Programming in Java: Starting With An App.
---
Computer Languages by Committee - the 1960s
Harry Fairhead
The 1960s saw the growth of interest in computer languages but, unlike today where successful languages are often designed by small teams and even single-minded enthusiasts, this was the decade of the committee - language by design and consensus.
Unhandled Exception!
Motivation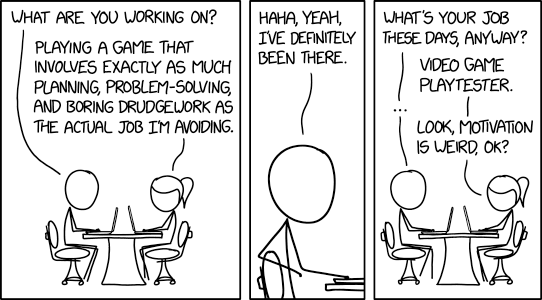 Click for larger image
I saw a blog post titled "You don't have to program in your spare time". Motivation, it's really strange isn't it. You can work on open source or you're side project and then do the same thing at work. The question is, should they bother to pay you as you would do the job anyway?! Of course, we know it isn't like that. This is your program and that is their program. I still hold that if you don't program in your spare time, you probably shouldn't be a programmer at all.
More cartoon fun at xkcd a webcomic of romance,sarcasm, math, and language
---
Book Watch

Follow Book Watch on Twitter

Book Watch is I Programmer's listing of new books and is compiled using publishers' publicity material. It is not to be read as a review where we provide an independent assessment. Some but by no means all of the books in Book Watch are eventually reviewed.
---
Hands-On Game Development with WebAssembly (Packt)
Friday 14 Jun
This book, subtitled "Learn WebAssembly C++ programming by building a retro space game" is designed to introduce web developers and game developers to the world of WebAssembly by walking them through the development of an arcade game. Author Rick Battagline shows how to build a WebAssembly application using C++, Emscripten, JavaScript, WebGL, SDL, and HTML5.
<ASIN:1838644652>
---
Essential Algorithms 2nd Ed (Wiley)
Wednesday 12 Jun
Subtitled "A Practical Approach to Computer Algorithms Using Python and C#", this revised and updated second edition offers an accessible introduction to computer algorithms. The book contains a description of important classical algorithms and explains when each is appropriate. Author Rod Stephens shows how to analyze algorithms in order to understand their behavior and teaches techniques that the can be used to create new algorithms to meet future needs.
<ASIN:1119575990>
---
Programming TypeScript (O'Reilly)
Monday 10 Jun
Aimed at programmers with intermediate JavaScript experience, this book is subtitled "Making Your JavaScript Applications Scale". Author Boris Cherny shows how to master the TypeScript language and aims to show how TypeScript can help eliminate bugs in code and produce code that is scalable across more engineers than you could before.
<ASIN:1492037656>
---
Coding for Kids (In Easy Steps)
Friday 07 Jun
This full-color book written to appeal to those aged 8 years and up, demonstrates coding for web pages in clear examples. It begins by explaining how to make and test a basic web page, then demonstrates how to add text, pictures, links, tables, lists, and buttons to a web page. Author Mike McGrath then goes on to how to specify content color, font, position, and visibility.
<ASIN:1840788399>
More Book Watch
---
Previous Book Watch.
Follow Book Watch on Twitter.
Publishers send your book news to:
bookwatch@i-programmer.info
---