Programming News and Views
Send your programming press releases, news items or comments to: NewsDesk@i-programmer.info
---
Epic Games V Apple - Smash The App Store


14 Aug

|

Mike James



Why this hasn't happened before is a mystery, but at long last a big software company has decided to rebel against the App Store. Epic Games has filed a civil anti-trust lawsuit against Apple - and made fun of them with a parody of the famous 1984 Apple ad. Could this be the beginning of the end?
---
Showcase Your Code With Grasshopper's Gallery


14 Aug

|

Nikos Vaggalis



Google's intuitive learn-to code-platform, Grasshopper
has added a Gallery feature, the idea of which is to promote sharing of projects and to showcase your code.
---
Mozilla Layoffs Include MDN Team


13 Aug

|

Ian Elliot



Further to yesterday's report of layoffs at Mozilla we now know that Mozilla's MDN team are among those losing their jobs, which will come as a blow to the many developers who rely on MDN as a source of quality documentation.
---
Elyra JupyterLab AI Extension Improves Usability


13 Aug

|

Kay Ewbank



Elyra AI Toolkit is now available in a 1.0 release. The open source project extends the JupyterLab user interface to simplify the development of data science and AI models.
---
Mozilla Layoffs and Change of Focus


12 Aug

|

Sue Gee



Blaming the impact of COVID-19, CEO Mitchell Baker announced yesterday that Mozilla is laying off 250 employees, a quarter of its workforce, and shuttering operations in Taiwan. Another 60 Mozillians are changing roles.
---
Microsoft Research Improves AI In Gaming


12 Aug

|

Kay Ewbank



Microsoft Research has announced several improvements to the use of reinforcement learning in gaming. The improvements include the development of game agents that learn how to collaborate in teams with human players.
---
Edge Gains Browser Market Share While Firefox Flounders


11 Aug

|

Sue Gee



Edge now has over eight percent of the desktop browser market, gaining half a percentage point between March and July 2020. Chrome, however,has fared even better with over a three and a half percentage increase, giving it a share of over 70%.
---
ACRN IoT Hypervisor Version 2 Released


11 Aug

|

Kay Ewbank



Project ACRN has released version 2 of its IoT hypervisor. Supported by the Linux Foundation, ACRN is an open-source, lightweight hypervisor that supports IoT functions including graphics, imaging, and audio in less under 40K lines of code.
---
Open Service Mesh To Join Cloud Native Computing Foundation


10 Aug

|

Sue Gee



Microsoft has announced Open Service Mesh (OSM) an open-source lightweight and extensible cloud-native service mesh that runs on Kubernetes. A proposal to donate OSM to the Cloud Native Computing Foundation (CNCF) has already been submitted.
---
Julia 1.5 Improves Struct Layout Support


10 Aug

|

Kay Ewbank



Julia has been updated with improvements including struct layouts and allocation optimizations, and stabilization of the multithreading API.
---
Synthesizing The Bigger Picture


09 Aug

|

David Conrad



There are more cameras in the world and more people taking photos all the time than ever before. What is more we all tend to take the same shots whenever we are near something "touristy". A new technique can put these crowdsourced photos together into a single image, capturing the many viewpoints.
---
August Week 1


08 Aug

|

Editor



If you've not visited the I Programmer webzine (web-based magazine) before, this Weekly Digest gives you a taster. It has links to our wide ranging news with its mix of analysis and comment. It also lists the week's additions to Book Watch Archive and our Book Review of the Week.
---
Human Genes Renamed To Please Excel


07 Aug

|

Janet Swift



More than two dozen human genes have been renamed so that they can be typed into a spreadsheet without being formatted as dates. New guidelines for standardized gene naming explicitly allow for renaming genes to avoid problems with data handling.
---
JDK's Move To GitHub Getting Close


07 Aug

|

Kay Ewbank



The OpenJDK team is getting close to its goal of moving the source code of open source Java to GitHub. The plan is to move the repos from Mercurial to GitHub by early September.
---
Kotlin 1.4 Improves Node.JS Support


06 Aug

|

Mike James



The latest version of Kotlin has reached release candidate status. Version 1.4 has a preview of extra support for Node.JS and improved IDE support.
---
js1024 - How Much Awesomeness Can You Pack In Just 1K?


06 Aug

|

Nikos Vaggalis



js1024 is the continuation of the legendary js1k JavaScript golfing competition which ended last year and like its predecessor is planned to be an annual contest. The winners of the first one have just been announced.
---
The Unreasonable Effectiveness Of GPT-3


05 Aug

|

Mike James



I suppose you say that the unreasonable effectiveness of OpenAI's GPT language program is just a special case of the unreasonable effectiveness of Deep Learning but ... it is so much more shocking.
---
Language Popularity Retrospective


05 Aug

|

Janet Swift



In the latest edition of the RedMonk Language Rankings, Python has displaced Java to occupy second place, below JavaScript which holds on to its long-help top position. This is hardly unexpected - Python and Java tied in second place last time round. But when it comes to programming languages change at the top of the rankings is a rare occurrence and thus newsworthy.
Other Articles
Book Review
---
Deep Learning Illustrated
Tuesday 11 Aug
Authors: Jon Krohn, Grant Beyleveld and Aglaé Bassens
Publisher: Addison-Wesley
Date: September 2019
Pages: 416
ISBN: 978-0135116692
Print: 0135116694
Kindle: B07W585JGG
Audience: Python developers interested in deep learning techniques
Rating: 3.5
Reviewer: Mike James
A picture is worth a thousand words, so "illustrated AI" sounds good.
Featured Articles
---
Steve Wozniak - Electronics Genius
Harry Fairhead
Co-designer of the Apple computer, Woz is one of the computer pioneers who have changed the way we work and play. He is also something much rarer today, an electronics genius. He has just turned 70, so this seems like a good time to look back on his achievements.
---
The Insider's Guide to the Java Web Developer Nanodegree - 2
Nikos Vaggalis
I Programmer team member Nikos Vaggalis enrolled in the inaugural sessions of Udacity's new Java Web Developer Nanodegree program and is charting his progress through this adventure of coding and learning. This second installment is on Spring Boot Basics..
---
Mouse's Tale
Sue Gee
Desktop computer users take the mouse for granted. But where did it come from and how does it work?
---
The Programmers Guide To Kotlin - Exceptions
Mike James
Kotlin has exceptions - but what do you do with them? In this extract from The Programmers Guide To Kotlin by Mike James, we look at and its approach to exceptions and how to work with them.
---
Towards Objects and Functions - Computer Languages In The 1980s
Historian
It is difficult to imagine a time when programming didn't involve objects and today we expect most languages to have some aspects of object orientation, yet these ideas had to be invented. The story of how is stranger than you might imagine, but it wasn't the only important development in the 1980s.
Unhandled Exception!
Old Days 2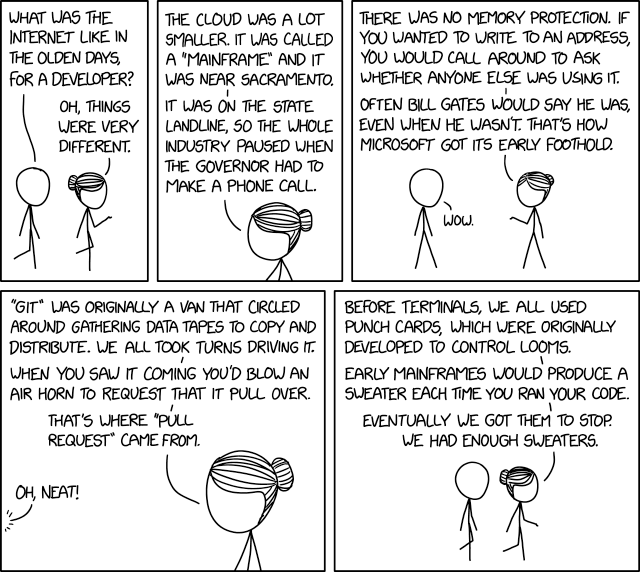 Click for larger image
It is wonderful - like a stream of consciousness poem. The early days had their moments. I can remember nearly freezing to death sitting on the steps of the computer center waiting for it to open so I could see my printout, correct the, usually minor, errors and throw the punch cards back in. Hypothermia was a small price to pay for an extra run in the day. Of course, the extra sweater kept you warm the next day.
More cartoon fun at xkcd a webcomic of romance,sarcasm, math, and language
---
Book Watch

Follow Book Watch on Twitter

Book Watch is I Programmer's listing of new books and is compiled using publishers' publicity material. It is not to be read as a review where we provide an independent assessment. Some but by no means all of the books in Book Watch are eventually reviewed.
---
The Art of Hacking (Indy Pub)
Friday 14 Aug
In this book, subtitled "Ancient Wisdom for Cybersecurity Defense", Information Security professional Ken May takes the reader through choice bits of wisdom in the most lauded writings about warfare, political intrigue, martial arts, history, and strategy, and shows how it can pertain to protecting modern data systems. From Sun Tzu to Machiavelli, from Thucydides to Musashi, the tools and techniques may change, but the primary principles remain the same. This edition includes original language source texts, when available.
<ASIN:1087894867>
---
Effective C (No Starch Press)
Wednesday 12 Aug
This book introduces C and the C Standard Library, showing how to debug, test, and analyze C programs with concise explanations of C language constructs and behaviors, while addressing best practices, common errors, and open debates in the C community. Author Robert C. Seacord is an expert on the C Standards committee, and the book covers the modern C17 Standard as well as potential C2x features.
<ASIN:1718501048>
---
Data Science Tools (Mercury Learning)
Monday 10 Aug
This book describes some of the popular software application tools used in data science along with the processes for downloading and best using them. Author Christopher Greco considers data analysis using Microsoft Excel, KNIME, R, and the OpenOffice spreadsheet. Each of these tools are used to apply statistical concepts including confidence intervals, normal distribution, T-Tests, linear regression, histograms, and geographic analysis using real data from Federal Government sources.
<ASIN:1683925831>
---
Algorithms Illuminated - Part 4 (Soundlikeyourself Publishing)
Friday 07 Aug
Algorithms for NP-Hard Problems is the fourth book in a series that provides an accessible, no-nonsense, and programming language-agnostic introduction to algorithms. The book includes hints or solutions to all quizzes and problems, and is accompanied by a series of YouTube videos by the author Tim Roughgarden, a Professor of Computer Science at Columbia University and well known to us for the Coursera Algorithms Specialization from when he was at Stanford University. Part 4, both of the Coursera series of courses and the set of books, covers algorithmic tools for tackling NP-hard problems (heuristic algorithms, local search, dynamic programming, MIP and SAT solvers) and techniques for quickly recognizing NP-hard problems in the wild.
<ASIN:0999282964>
---
Modern Python Cookbook 2nd Ed (Packt)
Wednesday 05 Aug
By exposing Python as a series of simple recipes, this book considers specific language features in a particular context. Steven F. Lott covers 133 recipes on the latest version of Python 3.8, illustrating Python programming concepts along with how to build complex applications. The recipes touch on all necessary Python concepts related to data structures, object oriented programming, functional programming, and statistical programming.
<ASIN:180020745X>
More Book Watch
---
Previous Book Watch.
Follow Book Watch on Twitter.
Publishers send your book news to:
bookwatch@i-programmer.info
---