Programming News and Views
Send your programming press releases, news items or comments to: NewsDesk@i-programmer.info
---
AGE - The Open Source PostgreSQL Extension For Graph Database Functionality


27 Jun

|

Nikos Vaggalis



Apache AGE, "A Graph Extension" was recently announced as an Apache Software Foundation Top-Level Project (TLP). What is the importance of that?
---
GitHub Copilot Released


27 Jun

|

Kay Ewbank



GitHub CoPilot has been officially released with a free option for use for verified students and maintainers of popular open source projects. Other developers will be charged $10 USD/month or $100 USD/year. GitHub describes Copilot as an AI pair programmer that suggests code in your editor.
---
Alexa Prize TaskBot Challenge


26 Jun

|

Sue Gee



A team of graduate students at the University of Glasgow has emerged as winners of Amazon's inaugural Alexa Prize TaskBot Challenge with GRILLBot, a "multi-modal task-oriented digital assistant to guide users through complex real-world tasks".
---
June Week 3


25 Jun

|

Editor



Every day I Programmer has new material written by programmers, for programmers. This digest gives a summary of the latest content, which this week includes an extract from Harry Fairhead's Raspberry Pi IoT in C explaining Pulse Width Modulation and one from Ian Elliot's Just jQuery on modifying DOM objects.
---
Mark Horowitz Recipient Of Computer Architecture Award


24 Jun

|

Sue Gee



The 2022 ACM Eckert-Mauchly Award has been awarded to Mark Horowitz who pioneered the DRAM Interface and whose insights at the intersection of architecture and circuits have had a profound influence.
---
GitHub Skills - A Better Way to Learn Git and GitHub


24 Jun

|

Nikos Vaggalis



GitHub has just launched Github Skills, a new learning platform
that replaces the current Learning Labs. This is a change for the better.
---
Meta Launches Five New Professional Certificates on Coursera


23 Jun

|

Sue Gee



Meta is expanding its training offering on Coursera with five new professional certificates for those wanting to embark on a programming career - for the web, for mobile or as a database engineer. Pre-enroll before the starting date to enjoy your first 30 days free.
---
Apache InLong Becomes Top Level Project


23 Jun

|

Kay Ewbank



Apache has announced InLong is now a top level project. InLong is a one-stop integration framework for massive data that provides automatic, secure, and reliable data transmission capabilities.
---
It Pays To Get Certification


22 Jun

|

Sue Gee



The Open Source Jobs Report 2022, published today, reinforces the message that gaining certification is very worthwhile for developers. Meanwhile the Stack Overflow Developer Survey 2022, also published today, reveals that over half of developers engage with the video-based online courses that lead to certification.
---
Busy Beaver 6,2 Is Just Too Big!


22 Jun

|

Mike James



It's OK, this isn't about real beavers of any sort, but about Turing machines with a special talent for making the most out of what they are given.
---
Andrew Ng Updates Machine Learning MOOC


21 Jun

|

Sue Gee



Andrew Ng's Machine Learning course from DeepLearning.AI on Coursera has been revamped and updated and its student ratings suggest it is better than ever. It now uses Python and introduces TensorFlow, but it still covers all the basics.
---
Rust Adds Source-based Code Coverage


21 Jun

|

Kay Ewbank



Rust 1.61 has been released with improvements including custom exit codes from main, along with source-based code coverage. Rust is now safeguarded by the Rust Foundation, a cross-industry body aimed at supporting the language and its developers.
---
Angular 14 Adds Typed Forms


20 Jun

|

Ian Elliot



Angular 14 has been released with improvements including typed forms, standalone components, and new primitives in the Angular CDK (component dev kit).
---
.NET MAUI Reaches General Availability


20 Jun

|

Kay Ewbank



.NET MAUI has reached general availability, has replaced Xamarin in Visual Studio 2022, and now appears as a project type in Visual Studio replacing Xamarin.
---
Computer Music - Floppotron 3


19 Jun

|

Harry Fairhead



Computer-generated music is an art form in its own right. But what about music made by obsolete computer hardware? The third generation PC hardware orchestra, Floppotron 3.0, from Paweł Zadrożniak uses 512 floppy disk drives, 16 hard disks and 4 scanners and makes an impressive sound.
---
June Week 2


18 Jun

|

Editor



If you want to get up to speed on stuff that affects you as a developer, our weekly digest summarizes the articles and news written each day by programmers, for programmers. This week Harry Fairhead looks at multitasking and we have a round up of books on R, the popular language for statistics, data analysis and data mining.
---
OpenCV Spatial AI Contest Winners Announced


17 Jun

|

Kay Ewbank



The OpenCV Spatial AI contest has ended with the announcement of the winners of the popular vote. OpenCV partnered with Intel and Microsoft Azure to bring an AI, computer vision, and manufacturing competition to life.
---
New Record From Google - 100 Trillion Digits Of Pi


17 Jun

|

Sue Gee



Emma Haruka Iwao, a Developer Advocate at Google Cloud, started a calculation to compute pi to 100 Trillion digits on Google Cloud from her home office on October 14 2021.
Other Articles
Book Review
---
PostgresSQL 14 Administration Cookbook
Tuesday 21 Jun
Author: Simon Riggs and Gianno Ciolli
Publisher: Packt Publishing
Pages: 608
ISBN: 978-1803248974
Print:1803248971
Kindle: B09R4VBHX3
Audience: PostgresSQL developers and administrators
Rating: 4.5
Reviewer: Kay Ewbank
While this book describes itself as a cookbook, the recipes in it work through the necessary skills and knowledge to administer PostgresSQL 14.

Featured Articles
---
Fundamental C - String I/O
Harry Fairhead
This extract, from my book on programming C in an IoT context explains that strings are not so user friendly after all. You need to know how to get strings from the outside world and convert them to C data types.
---
The Bloom Filter
Mike James
You may never have heard of a Bloom Filter, but this ingenious algorithm is used in Google's BigTable database to avoid wasting time fruitlessly searching for data that isn't there.
---
Raspberry Pi IoT In C - Basic Pulse Width Modulation
Harry Fairhead
PWM is a workhorse of many motor and power control applications. This is an extract from Raspberry Pi IoT in C, Second Edition.
---
Just jQuery The Core UI - Modifying The DOM
Ian Elliot
jQuery provides you with methods for working with the DOM in ways powerful enough to allow you to create custom controls that extend what you can incorporate into an HTML page. But first we must look at how you can modify existing DOM objects.
---
Really Good R Books
Kay Ewbank
R's popularity as a language for statistics, data analysis and data mining is increasing year on year, and as you'd expect there are some good books on the subject. R's strengths mean it is one of the most commonly used programming languages used in data mining. In this guide, we've highlighted the best of the R books that we've reviewed on I Programmer.
Unhandled Exception!
Turing Complete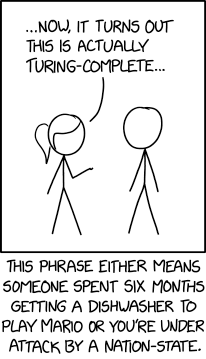 This is an over reaction! Just about everything is Turing complete - mostly by accident - and in any case my dishwasher already plays Mario and it took a lot longer than six months...
PS If you really want to know what Turing Complete is all about see The Trick Of The Mind.
More cartoon fun at xkcd a webcomic of romance,sarcasm, math, and language
---
Book Watch

Follow Book Watch on Twitter

Book Watch is I Programmer's listing of new books and is compiled using publishers' publicity material. It is not to be read as a review where we provide an independent assessment. Some but by no means all of the books in Book Watch are eventually reviewed.
---
Learn Enough JavaScript to Be Dangerous (Addison-Wesley)
Monday 27 Jun
In this book, subtitled "Write Programs, Publish Packages, and Develop Interactive Websites with JavaScript", Michael Hartl teaches the specific concepts, skills, and approaches you need to be professionally productive. Treating JavaScript as a general-purpose language right from the start, Hartl offers examples for creating dynamic effects in browsers and for writing scripts and modules using Node.js. Focused exercises help you internalize what matters, without wasting time on details pros don't care about.
<ASIN:0137843747>
---
Analyzing Social Networks Using R (SAGE Publications)
Friday 24 Jun
This book introduces network research in R, walking the reader through every step of doing social network analysis. Drawing together research design, data collection and data analysis, Stephen Borgatti et al explain the core concepts of network analysis in a non-technical way. The book balances an easy to follow explanation of the theoretical and statistical foundations underpinning network analysis with practical guidance on key steps like data management, preparation and visualisation.
<ASIN:1529722470>
---
React and React Native 4th Ed (Packt)
Wednesday 22 Jun
This book has been updated to the latest React 18 to help readers go from beginner to professional in React applications development. In this fourth edition, Adam Boduch, Roy Derks and Mikhail Sakhniuk look at the latest features, enhancements, and fixes to align with React 18, while also being compatible with React Native. It includes new chapters covering critical features and concepts in modern cross-platform app development with React.
<ASIN:1803231289>
---
Software Mistakes and Tradeoffs (Manning)
Monday 20 Jun
This book, subtitled "How to make good programming decisions", shows how to optimize the decisions that define your code by exploring the common mistakes and intentional tradeoffs made by expert developers. Tomasz Lelek and Jon Skeet explore real-world scenarios where poor understanding of tradeoffs lead to major problems down the road, so you can preempt your own mistakes with a more thoughtful approach to decision making.
<ASIN:1617299200>
---
The Advanced Roblox Coding Book (Adams Media)
Friday 17 Jun
This book provides next-level, beginner-friendly guidance for middle-grade readers using Roblox Studio and Lua code to create interactive games. Heath Haskins shows where and how to use scripts, how to introduce variables and customize graphic elements, and then how to put these skills together into fun and interesting games and experiences.
<ASIN:1507217889>
More Book Watch
---
Previous Book Watch.
Follow Book Watch on Twitter.
Publishers send your book news to:
bookwatch@i-programmer.info
---