Programming News and Views
Send your programming press releases, news items or comments to: NewsDesk@i-programmer.info
---
January Week 2


16 Jan

|

Editor



Get up to speed on stuff that affects you as a developer by reading about the news and books written by programmers, for programmers. In this week featured articles, Mike James explains how parameters make Python functions easier to use and Harry Fairhead looks at why computer memory can be likened to pigeonholes.
---
PostgreSQL Is DB-Engines DBMS of the Year For 2020


15 Jan

|

Nikos Vaggalis



In yet another confirmation of its popularity and worth, PostgreSQL has taken the annual accolade awarded by DB-Engines.
---
RStudio Improves Python Support


15 Jan

|

Kay Ewbank



The developers at RStudio have announced a number of improvements designed to make it easier to use R and Python together in a single data science project, including more options for native Python coding in the RStudio IDE, including a Python environment and object explorer.
---
BlocklySQL - Visual SQL Programming


14 Jan

|

Nikos Vaggalis



BlocklySQL is a block-based, visual programming tool like Scratch but for SQL. It is the outcome of academic research at the University of Würzburg on the kind of errors that students who are novice in writing SQL queries make.
---
DLang Improves Objective-C Support


14 Jan

|

Kay Ewbank



There's a new release of the D programming language with better Objective-C support, as well as improvements to the compiler, libraries, and tools.
---
New In Windows Forms .NET


13 Jan

|

Mike James



Yes, you read that headline correctly. Despite being out of favor and in maintenance mode, WinForms is still capable of a surprise or two. How can .NET 5.0 introduce new features for something that isn't developing?
---
How Is JavaScript Doing?


13 Jan

|

Ian Elliot



The results of the 2020 State of JavaScript Survey have been released. What do they tell us about developers attitude towards JavaScript and its ever-expanding ecosystem?
---
Online Quantum Computing Hackathon


12 Jan

|

Sue Gee



MIT will be hosting its second annual quantum hackathon at the end of January. If you want to participate in an online event in which projects are run on real quantum hardware, register by January 15th.
---
Veracode Reveals Security Flaws


12 Jan

|

Alex Armstrong



Three-quarters of applications have some sort of security flaw, although high-security flaws are found in only a quarter. PHP is the programming language with the highest prevalence of flaws while Python and JavaScript are the least affected.
---
JupyterLab 3 Released


11 Jan

|

Kay Ewbank



A major new version of JupyterLab has been released with new features for users and substantial improvements to the extension system.
---
Qt Moving To Commercial-Only LTS


11 Jan

|

Kay Ewbank



As rumored last year, the Qt Company has announced that now that Qt 6 is released, Qt 5.15 LTS will move to a 'commercial-only' phase.
---
Watch the Rise and Fall of Programming Languages


10 Jan

|

Sue Gee



For a new take on the evergreen topic of which programming language is the most popular, give yourself a five minute break and watch this animation which shows how programming languages have competed for the title of most popular language since 1965. And yes it is Python that currently holds the title.
---
January Week 1


09 Jan

|

Editor



This is our first weekly digest of 2021 and we are able to share the news that Python is Language of the Year for 2020. We have a full complement of book watch items and the first 5-star book review of the year.
---
Obfuscated C Winners Announced


08 Jan

|

Kay Ewbank



The winners of the 27th International Obfuscated C Code Contest have been announced, and the source code for the winning entries is available to view and try.
---
New To Perl? What Do You Need?


08 Jan

|

Nikos Vaggalis



Developers who use Perl are invited to take a survey to provide feedback on what help and guidance they would find useful. It's a Perl Foundation initiative to guide developers in their journey of learning Perl.
---
GTK 4 Released


07 Jan

|

Kay Ewbank



A major new version of GTK has been released with improvements to the internal design and an improved application programming interface (API). Support has been added for OpenGL and Vulkan hardware drawing for the widgets with the aim of maximizing performance while minimizing CPU load.
---
Season Of Docs 2020 - A Success Story


07 Jan

|

Sue Gee



Season of Docs is a project supported by Google that aims to bring together open source organizations and technical writers with the aim of improving open source documentation. The results of the 2020 season, its second, have now been announced.
---
Firefox Drops Support For PWA


06 Jan

|

Ian Elliot



Firefox is removing its experimental support for installing Progressive Web Apps to the desktop. Whether or not this really constitutes giving up on PWA depends on your point of view, but I think it is disappointing, both for PWA and for Firefox.
Other Articles
Book Review
---
How to Grow a Robot: Developing Human-Friendly, Social AI
Tuesday 12 Jan
Author: Mark H. Lee
Publisher: MIT Press
Pages: 384
ISBN: 978-0262043731
Print: 0262043734
Kindle: B0874BMM14
Audience: Developers interested in how robotics and AI can be combined.
Rating: 5
Reviewer: Kay Ewbank
This book sets out to look at how robots can be more human-like, friendly and engaging.
Featured Articles
---
Hexadecimal
Harry Fairhead
Hexadecimal is the most common way of displaying the raw data sitting in a machine's memory, but if you are not familiar with it you might ask "What the hex..?"
---
Programmer's Python - Parameters
Mike James
Functions in Python are very important, even when you forget that they are objects. To make functions easier to use, there are a lot of additional features that have been added as Python developed. Parameters are explained in this extract from my book, Programmer's Python: Everything is an Object.
---
The Memory Principle - Computer Memory and Pigeonholes
Mike James
We discover why computer memory can be likened to pigeonholes and even include instructions for you to build your own memory device.
---
JavaScript Canvas - Unicode
Ian Elliot
Canvas can handle text, but can JavaScript handle Unicode? In this extract from my book on JavaScript Graphics, we look at the basics of working with Unicode characters on Canvas.
---
The Rise Of People Power - Computer Languages in the 1970's
Harry Fairhead
The 1970s saw the rise of programming languages created by small groups of people rather than committees or institutions and much of the cause was the number of personal computers that had appeared and were in need of software. This is the story of BASIC and Pascal, both of which have faded away after four decades, and C which is still in its heyday.
Unhandled Exception!
Scientist Tech Help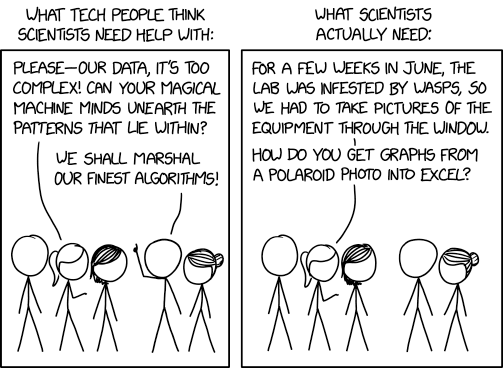 Click for larger image
So, so true. Not restricted to scientist tech help either. We often get hold of the wrong idea when it comes to providing any software. When we do find out what the user wants, it's often a big disappointment. I suggest this is why we hate requirements analysis. In an ideal world we should just deliver the toy that pleases us the most...
More cartoon fun at xkcd a webcomic of romance,sarcasm, math, and language
---
Book Watch

Follow Book Watch on Twitter

Book Watch is I Programmer's listing of new books and is compiled using publishers' publicity material. It is not to be read as a review where we provide an independent assessment. Some but by no means all of the books in Book Watch are eventually reviewed.
---
Math for Programmers (Manning)
Friday 15 Jan
With the subtitle, "3D graphics, machine learning, and simulations with Python", this book aims to provide the strong math skills you need to qualify for jobs in data science, machine learning, computer graphics, or cryptography. With lots of helpful graphics and more than 300 exercises and mini-projects, Paul Orland teaches the math you need for these hot careers, concentrating on what you need to know as a developer.
<ASIN:1617295353>
---
C++ High Performance, 2nd Ed (Packt)
Wednesday 13 Jan
This book, sibtitled "Master the art of optimizing the functioning of your C++ code" shows how to tweak the performance of C++ apps, so they can run faster and consume fewer resources on the device they're running on without compromising the readability of the codebase. Björn Andrist and Viktor Sehr begin by introducing the C++ language and some of its modern concepts in brief. They then move on to using algorithms, ranges, and containers from the standard library to achieve faster execution, write readable code, and use customized iterators.
<ASIN:1839216549>
---
GIS for Science, Volume 2 (Esri Press)
Monday 11 Jan
This book, subtitled Applying Mapping and Spatial Analytics, is a collection of current, real-world examples of scientists using geographic information systems (GIS) and spatial data science. Co-edited by Esri Chief Scientist Dawn Wright and Esri Technology Writer and Information Designer Christian Harder and with a foreword by Pulitzer Prize winner Jared Diamond, these case studies are part of a global effort to find ways to sustain a livable environment for all life on this planet.
<ASIN:1589485874>
---
The Computer's Voice: From Star Trek to Siri (University of Minnesota Press)
Friday 08 Jan
Why is Star Trek's computer coded as female, while HAL 9000 in 2001: A Space Odyssey is heard as male? Liz W. Faber focuses on voice-interactive computers, and breaks new ground in questions surrounding media, technology, and gender. The book is a decade-by-decade investigation of computer voices, tracing the evolution from the masculine voices of the '70s and '80s to the feminine ones of the '90s and '00s. Faber ends her account in the present, with looks at the film Her and Siri herself.
<ASIN:1517909767>
---
JUnit in Action, 3rd Ed (Manning)
Wednesday 06 Jan
This completely rewritten edition with new code and new chapters, is an up-to-date guide to smooth software testing. Catalin Tudose provides examples that demonstrate JUnit's modern features, including its new architecture; nested, tagged, and dynamic tests; and dependency injection. Examples illustrate JUnit 5's innovations for dependency injection, nested testing, parameterized tests, and more.
<ASIN:1617297046>
More Book Watch
---
Previous Book Watch.
Follow Book Watch on Twitter.
Publishers send your book news to:
bookwatch@i-programmer.info
---