Programming News and Views
Send your programming press releases, news items or comments to: NewsDesk@i-programmer.info
---
Flutter 3.7 Adds New Rendering Runtime


31 Jan

|

Kay Ewbank



The latest release of Flutter was showcased at Flutter Forward, an event hosted by Google for the developer community to highlight future plans for Flutter.
---
Catching Up With PyCharm 2022.3


31 Jan

|

Mike James



PyCharm 2022.3.2, the second minor bugfix release for the latest edition of PyCharm, has just been released. But if you hadn't noticed the new features in PyCharm 2022.3 here's a catchup.
---
The Year of AI Breakthroughs 2022


30 Jan

|

Nikos Vaggalis



Louis Bouchard has compiled a great list of research papers covering AI breakthroughs that were published during last year. His introductions and links to the papers and even to code make this a great resource.
---
Oracle Hikes Java Prices


30 Jan

|

Kay Ewbank



Oracle has announced pricing changes to the Java SE Universal Subscription so that companies will now have to pay based on their total number of employees as opposed to the number of Java users. This will result in some organizations paying much more to use Java.
---
WiFi Signals Can Reveal What You Are Doing


29 Jan

|

Lucy Black



We are used to the idea that AI is spying on us - it collects data on our behaviour and our desires. In this research, however, AI is intended to mitigate issues of privacy in human sensing.
---
January Week 4


28 Jan

|

Editor



As usual, this week we reported news on a range of programming languages, framworks and tools and about software development as a profession. We also saw the Atlas humanoid robot preparing to do real work. Our two featured articles are both extracts from books published as part of the I Programmer library.
---
Visual Studio C++ And Colored Braces


27 Jan

|

Kay Ewbank



The preview release of Visual Studio 17.5 has been announced with a number of improvements for developers editing C++ code, plus spell-checking for C#, C++, and Markdown files but the one that made us think deeply is colored braces.
---
GitHub Has 100 Million Active Users


27 Jan

|

Sue Gee



In his keynote at GitHub Universe 2019, then CEO Nat Friedman announced GitHub had more than 40 million active users and predicted that by 2025 it would have 100 million. That target has already been reached.
---
Mockito 5.0.0 Released


26 Jan

|

Nikos Vaggalis



The venerable Java testing framework which allows the creation of test double objects in automated unit tests for the purpose of test-driven or behavior-driven development is going through a major update. Let's check what it offers.
---
CodeSandbox Adds Support For Rust And Docker


26 Jan

|

Kay Ewbank



Support for Rust and Docker has been added to the CodeSandbox cloud development environment. Until now, the development environment has concentrated on support for JavaScript and TypeScript.
---
CodinGame Findings On Hiring And Getting Hired


25 Jan

|

Sue Gee



More than one in two developers is considering job hopping with the next year while talent retention has become the top issue on technical hiring companies' priority list. These are among the findings of CodinGame's 2023 survey of developers and recruiters which also explores preferences for skills assessment.
---
Bjarne Stroustrup Defends C++ As Safe


25 Jan

|

Mike James



It isn't surprising to find the creator of a language defending the language they created and so it is with the latest paper from Bjarne Stroustrup. Is it fair for the NSA to tell programmers to stay away from C and C++ and prefer C#, Go, Java Ruby and Swift?
---
Progress Telerik Improves MAUI And Blazor Support


24 Jan

|

Kay Ewbank



Telerik has been updated with new components for Blazor, .NET MAUI, and WinForms, as well as support for .NET 7 and accessibility improvements.
---
Couchbase Adds Azure Support To Capella


24 Jan

|

Kay Ewbank



Couchbase has announced that Capella, the fully managed service version of its distributed NoSQL database that includes mobile and IoT application services, now supports Microsoft Azure.
---
SourceBuddy Brings Eval To Java


23 Jan

|

Nikos Vaggalis



SourceBuddy is a Java library that compiles and loads dynamically generated Java source code. This has the advantage of providing Java with an eval facility such as those found in interpreted languages.
---
.NET Community Toolkit Updated


23 Jan

|

Kay Ewbank



Microsoft has announced an updated version of the .NET Community Toolkit, a collection of helpers and APIs that work for all .NET developers. The updated version adds some features requested by users, and has much faster versions of the MVVM Toolkit source generators.
---
Altas Does The Heavy Lifting


22 Jan

|

Lucy Black



In the latest video from Boston Dynamics, Atlas makes a convincing show of working on a construction site - although the footage does include a feat of gymnastics that would certainly not be appropriate in such a setting.
---
January Week 3


21 Jan

|

Editor



Get up to speed on stuff that affects you as a developer with our weekly digest. It summarizes the week's news together with links to the latest book review and our additions to Book Watch. By way of featured articles we have Risks of Application Dependencies and How to Mitigate Them and Nintendo - The Early History.
Other Articles
Book Review
---
Lean DevOps
31 Jan
Author: Robert Benefield
Publisher: Addison-Wesley
Pages: 368
ISBN: 978-0133847505
Print: 0133847500
Kindle: B0B126ST43
Audience: Managers of devops teams
Rating: 3 for developers, 4.5 for managers
Reviewer: Kay Ewbank
The problem this book sets out to address is that of how to deliver on-demand services well; giving what the customer needs, developing quickly, and providing a solution that is consistent, cost effective and reliable. That's quite a list.
Featured Articles
---
Programmer's Python Async - Threads


31 Jan

|

Mike James



Threading is the most basic way to implement async code but for Python threading is complicated by the GIL. Find out the basics of threading in this extract from my new book Programmer's Python: Async.

---
Universal Hashing


27 Jan

|

Mike James



Hashing is a fun idea that has lots of unexpected uses. Here we look at a novel type of hash function that makes it easy to create a family of universal hash functions. The method is based on a random binary matrix and is very simple to implement.
---
The Pico/W In C: A Better Connect


23 Jan

|

Harry Fairhead



The Pico W has WiFi and getting started is easier than you might think from the documentation. But how do you get connected? This isn't a matter of only connect - there is more to do! This is an extract from our latest book all about the Pico/W in C.
---
Just jQuery The Core UI - Function Queues


21 Jan

|

Ian Elliot



jQuery has some interesting ways of doing things and one that you cannot afford to miss is the function queue. It is a really great idea and once you understand it you will wonder how you ever did without it.
---
Risks of Application Dependencies and How to Mitigate Them


16 Jan

|

Gilad David Maayan



Application dependencies are an important aspect of software development and maintenance, as they provide the necessary components for an application to function properly. We look at ways to minimize five risks that can result from dependencies.
Unhandled Exception!
Encryption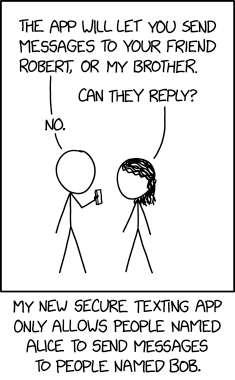 To the average programmer encyrption often looks like a joke about Alice and Bob. It seems the only way to be secure is to talk to no one. So much for the open internet...
More cartoon fun at xkcd a webcomic of romance,sarcasm, math, and language
---
Book Watch

Follow Book Watch on Twitter

Book Watch is I Programmer's listing of new books and is compiled using publishers' publicity material. It is not to be read as a review where we provide an independent assessment. Some but by no means all of the books in Book Watch are eventually reviewed.
---
Microservice APIs (Manning)
30 Jan
Subtitled "Using Python, Flask, FastAPI, OpenAPI and more", this book teaches practical techniques for designing robust microservices with APIs that are easy to understand, consume, and maintain. José Haro Peralta draws on his years of experience experimenting with microservices architecture, dodging pitfalls and learning from mistakes he's made.
<ASIN:1617298417>
---
Graph Theory in America (Princeton University Press)
27 Jan
In this book Robin Wilson focuses on the development of graph theory in North America from 1876 to 1976, from the point at which James Joseph Sylvester took up his appointment as the first professor of mathematics at the Johns Hopkins University to the solution of the longstanding four color problem in 1976 by Kenneth Appel and Wolfgang Haken of the University of Illinois.
<ASIN:0691194025>
---
Learning Spring Boot 3.0 3rd Ed (Packt)
25 Jan
This book starts off by showing how to build a simple app using Spring Boot, and then shows how to secure, test, bundle, and deploy it to production. Greg L. Turnquist then looks at how to go "native" and release using GraalVM. Later chapters explore reactive programming and get a taste of scalable web controllers and data operations. The book goes into detail about GraalVM native images and deployment, showing how to secure an application using both routes and method-based rules.
<ASIN:1803233303>
---
Murach's R for Data Analysis (Murach)
23 Jan
This book sets out to teach the R skills needed to become a data analyst. Scott McCoy starts with just the parts of the R language relevant to data analysis before moving on to hen,the use of R with the tidyverse package to get, clean, prepare, analyze, and visualize data at a professional level. By the end of the book readers will be creating linear regression models and classification models and using them to make predictions. This book contains three realistic analyses that use real-world data.
<ASIN:B0BJXF7F23>
---
Mathematica Beyond Mathematics, 2nd Ed (CRC Press)
20 Jan
This thoroughly revised second edition of the book introduces the new features and functionality added to the most recent versions of Mathematica using real-world examples and discusses new topics related to machine learning, big data, finance economics, and physics. As suggested by the subtitle "The Wolfram Language in the Real World", José Guillermo Sánchez León introduces examples that strike a balance between relevance and difficulty in terms of Mathematica syntax, allowing readers to incrementally build up their Mathematica skills as they go through the chapters.
<ASIN:1032004835>
More Book Watch
---
Previous Book Watch.
Follow Book Watch on Twitter.
Publishers send your book news to:
bookwatch@i-programmer.info
---